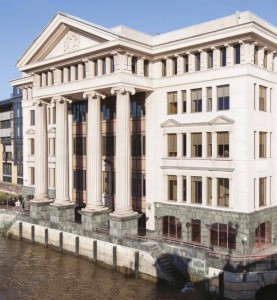 Rugby World Cup-winning coach, Sir Clive Woodward, was the guest of honour, at the opening of Tata Communications' new European headquarters in the City, in early June. Tata Communications is part of the $100 billion (£64 billion) Tata group, one of the largest private sector employers in the UK.
Sir Clive, the 59-year old former rugby union player and the Webb Ellis Cup-winning coach of England, discussed the importance of understanding technology and data in order for businesses to stay ahead and how understanding of sport science technology and data was central to his team's success in 2003. "Great teams are made of great individuals" and "Talent alone is not enough" were two of the key messages to the assembled 150 Tata Communications staff and guests at the lavish event which included cocktails and canapés, crafted by Michelin-starred chef Joël Robuchon.
Looking out at the backdrop of Southwark Bridge, Vinod Kumar, managing director and CEO of Tata Communications, who had flown in from Singapore to attend added: "It may be the quietest bridge in London, but this is the busiest office in London… at least as far as our competitors are concerned. This is probably the best office we have in the whole world."
Nick McCalmont-Woods, CEO of niche London real estate agency McCalmont-Woods, who acquired the new 16,600 sq ft offices in Vintners' Place, 68 Upper Thames Street, EC4 was thanked by Julie Woods-Moss, Tata Communications' chief marketing officer and CEO of Nextgen Business. She also praised the new office: "It's in the heart of the Square Mile, overlooking the Thames and Shakespeare's Globe. It's wonderful to gather together all of our staff and their guests to toast this fabulous new facility.
"Our new London office is a fantastic showcase of the Tata Communications brand. We have worked with one of London's top design agencies to create a dynamic, energising space that encourages collaboration and brings out the best in our teams, to innovate and to lead in the market. We are looking forward to many prosperous years in our new home."