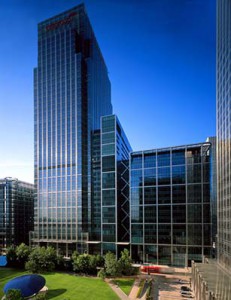 Just nine years into its history IBT Media, owner of the International Business Times and Newsweek among other titles, has enjoyed the kind of stellar growth most media players only dream of. Their overall readership has grown 70% in the past year. In the last year alone, IB Times UK, one of their leading web news properties has gone from 12,500,000 to an astonishing 21,000,000 unique visitors a month. These achievements are delivered by a growing team of cutting edge journalists, editors, technologists and others.
But with this growing stable of titles and increasing headcount have come the challenges of finding the perfect real estate for its ever extending operation. They turned once more to McCalmont-Woods, the specialist London commercial office real estate agency, who have acquired for them a stylish new 13,000 square foot office at Citi's 25 Canada Square, in London's Docklands.
This has been a long-term relationship for the two companies. Back in 2009 McCalmont-Woods let IBT Media their first London office in Canary Wharf – some 2,200 sq ft on the 34th floor of One Canada Square. Sufficiently impressed by the professionalism and expertise of the agency, in 2012 IBT Media contacted McCalmont-Woods again and to deal with its still rapidly growing needs. IBT Media duly took up its new home in 6,280 square feet on the 32nd floor of Citi's 25 Canada Square, with capacity for around 80 staff. But their growth has been relentless, so the story doesn't end there.
In early 2015, IBT Media once again asked McCalmont-Woods to advise it on relocation. In another doubling of their operation, both companies are thrilled to announce today the move to their new 24th floor, 13,000 sq ft offices once again at Citi. Cushman & Wakefield acted for Citi.
Nick McCalmont-Woods, CEO of McCalmont-Woods commented: "IBT Media has been a remarkable success story. In the six years I have been involved with them their space requirements have risen by 486% from 2,217 square feet in 2009 to just over 13,000 square feet today. Our deep understanding of their business has meant we've been able to help them locate intelligent, future-proof workspaces that support that amazing growth."
Founded and headquartered in New York in 2006 by Etienne Uzac and Jonathan Davis, IBT Media is a global digital news organisation with ten online news brands including International Business Times and Newsweek. Its UK and EMEA headquarters are in London set up and run by Dev Pragad, Managing Director for IBT Media's international arm. Still in its first decade, the company has undergone rapid growth and made the headlines in late 2013 it when it acquired Newsweek from IAC.
Dev Pragad, UK & EMEA Managing Director of IBT Media said: "Our stats are a bit dumbfounding. IBT Media's readership has grown 70% in just the last year. The operational effect of that means we've gone from 2,200 to 13,000 square feet in 6 years. Four moves in 9 years… our growth is pretty staggering – and in under a decade we've grown two-fold from 80 to 160 staff. With this kind of growth space keeps becoming an issue and as a news business we need efficient, strategic transitions when we move. McCalmont-Woods were remarkable at finding us cost-effective rent terms and negotiated a very favourable deal for us. We couldn't be happier with them."