The challenges facing businesses globally as they position for recovery post-pandemic are inherently interlinked
As businesses position for recovery and adopt new ways of working, corporate occupiers will need to address a range of issues if they are to retain and compete for top talent while delivering revenue growth and managing operational efficiencies.
FIDES Network's independent specialists consider how adopting a holistic approach to implementing new ways of working can help your business to achieve operational efficiencies and tackle key challenges in organisational strategy, HR, technology, workplace and wellbeing, and commercial real estate.
Key questions include:
* Is your office a place to work or somewhere to build culture, collaborate and socialise?
* Are there opportunities to reduce your office footprint or become more sustainable?
* Do you have the technology to enable new ways of working?
* Are you taking advantage of talent hotspots in the UK and internationally?
* Do you have a strategy in place to address these issues and optimise productivity?
Please click ? Can You Work On Mars? to learn more.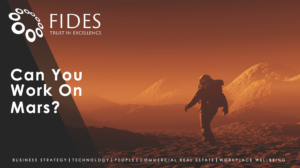 How can we help?
McCalmont-Woods Real Estate is a member of FIDES Network, a trusted independent network providing bespoke services and solutions for financial and professional services organisations, particularly during times of event-driven change.
Because McCalmont-Woods acts only for corporate occupiers, we guarantee to provide un-conflicted advice and champion your interests as trusted advisors in real estate.
We have advised an impressive list of office occupiers from small start-ups to leading global brands across a broad range of industry sectors and on whose behalf we have produced more than £50 million cost savings to date.