Lease events are a catalyst for change
With businesses across the UK expecting to make significant changes to their ways of working, a forthcoming lease event provides an opportunity for many organisations to improve operational efficiencies and achieve significant cost savings with decisions to remain in existing premises or relocate elsewhere accelerating high up the corporate agenda.
Recognising that the ability to manage break options or lease expiries in an intelligent and timely manner can be a huge challenge, FIDES Network member Nick McCalmont-Woods has been considering the key drivers of change likely to influence corporate occupiers' decision making in real estate.
Please click ? Should I Stay or Should I Go Now? to learn more.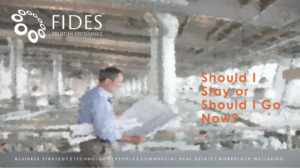 How can we help?
McCalmont-Woods Real Estate is a member of FIDES Network, a trusted independent network providing bespoke services and solutions for financial and professional services organisations, particularly during times of event-driven change.
Because McCalmont-Woods acts only for corporate occupiers, we guarantee to provide un-conflicted advice and champion your interests as trusted advisors in real estate.
We have advised an impressive list of office occupiers from small start-ups to leading global brands across a broad range of industry sectors and on whose behalf we have produced more than £50 million cost savings to date.