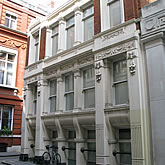 Leading UK investment bank JP Morgan Cazenove appointed McCalmont-Woods in early 2008 to undertake its outstanding 24th June 2006 rent review on its 8,500 sq ft building at 9-10 Tokenhouse Yard, EC2 in the heart of London's prestigious City business district.
The lease under which JP Morgan Cazenove occupies the building is very rare today in the City, being held on a 100-year term from 1963, with 57 years unexpired at the review date.
An additional complication to this unusual lease was that there was no disregard for tenant improvements. Unsurprisingly, since taking occupation, the tenant had made a number of major internal improvements, including the installation of comfort cooling and a passenger lift.
The review cycle alternates every 10 and 11 years, so founding director Nick McCalmont-Woods expects to be 96 years 'young' when the agreed annual rent is finally reviewed in 2058!