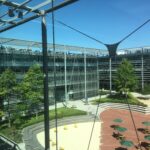 International SOS is the world's leading health & security services company. More than 12,000 multi-cultural health security and logistics experts stand by to provide support and assistance from over 1,000 locations in 90 countries. The company takes around 4 million assistance calls every year and has close to two-thirds of the Fortune Global 500 companies as clients.
Background
McCalmont-Woods was tasked with devising and implementing a break option strategy for International SOS on its London office HQ (comprising circa 44,000 sq ft) situated at Chiswick Park, W4 in West London and considered by many to be London's premier office business park location.
Over a period of 8-months leading up to the date for service of the tenant's break notice, a comprehensive review of the central London office market was undertaken during the midst of the global pandemic. This involved the analysis of 70 properties and after careful review and the physical inspection of 15 buildings, a shortlist of potential relocation options was drawn up. Requests for proposal were issued to various landlords with detailed heads of terms negotiations conducted on a select number of ('the go') options. In parallel with the relocation exercise, the opportunity to restructure the tenant's existing office leases ('the stay option') on Chiswick Park was explored in detail with Revantage Europe (a Blackstone company) advising the tenant's existing landlord CIC, the Chinese sovereign wealth fund.
Outcome
The successful break option strategy devised by McCalmont-Woods resulted in International SOS remaining at Chiswick Park under restructured lease terms which produced circa £4 million savings for the business, reported to be "the most generous terms ever offered on a lease regear at Chiswick Park".
Michael Whitlow, Human Resources Director, Assistance Business Line
"Thank you so much for delivering such an incredible outcome for the business. It has been a pleasure partnering with you on this critical project."