Lease events are a catalyst for change
With businesses across the UK expecting to make significant changes to their ways of working, a forthcoming lease event provides an opportunity for many organisations to improve operational efficiencies and achieve significant cost savings, such that, any decision to remain in existing premises or relocate elsewhere has accelerated high up the corporate agenda.
As the ability to manage break options or lease expiries in an intelligent and timely manner can be a huge challenge, Nick McCalmont-Woods and fellow FIDES Network members Nick Dennis, Jenny Lancaster, Debra Spurway, Ian Griffiths and Lara Conaway have been considering the key drivers of change likely to influence corporate occupiers' decision making.
To read more, please click Should I Stay or Should I Go Now?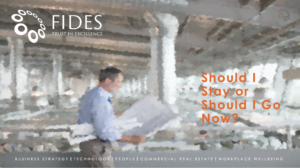 How can we help? (www.fidesnetwork.com)
McCalmont-Woods Real Estate is a member of FIDES Network, a trusted independent network providing bespoke services and solutions for financial and professional services organisations, particularly during times of event-driven change.
Fides members are uniquely able to provide end-to-end services combining specialists in the fields of business strategy, operational excellence and transformation, technology solutions, commercial real estate, HR, office fit-out project management, workplace wellbeing and environmental assessments.