The last 12 months have been transformative for businesses particularly across the office and retail sectors, forcing us all to work differently and think about how we want to work in the future.
As various organisations adopt different workplace strategies, the question on everyone's minds is how to effectively blend home and office working to create a hybrid model.
With 39% of businesses in the UK forecasting a reduction in office space and 66% of business leaders expecting to redesign office space to better suit hybrid working, now is the time to be thinking about how to successfully design and adopt a hybrid model.
McCalmont-Woods Real Estate has, together with fellow FIDES Network members PEN Partnership, CSL Integration and Fit Out Expert, been considering what a move to a hybrid working model means for corporate office occupiers and in particular:
* What are the trends in the UK and USA?
* What opportunities does a hybrid working model present and how do they compare with a more radical shift to a fully remote model?
* What key actions do you need to take as you plan new ways of working and seek to improve productivity?
* How do you take a holistic view of future ways of working that aligns business strategy and operational excellence with real estate and technology?
FIDES Network Chairman Mike Symes said, "In a post-pandemic environment, businesses are looking for new solutions to recover, re-size and reimagine. At FIDES, we bring together brilliant people to deliver the most creative solutions."
If you'd like to understand more, pease click 👉 Where and how we work has changed forever to read our views.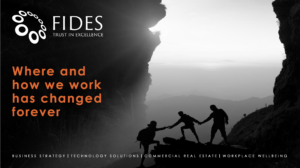 How can we help?
McCalmont-Woods Real Estate is a member of FIDES Network, a trusted independent network providing bespoke services and solutions for financial and professional services organisations, particularly during times of event-driven change.(www.fidesnetwork.com)
Because McCalmont-Woods acts only for corporate occupiers, we guarantee to provide un-conflicted advice and champion your interests as trusted advisors in real estate.
We have advised an impressive list of office occupiers from small start-ups to leading global brands across a broad range of industry sectors and on whose behalf we have produced more than £50 million cost savings to date.