The last 12 months have been transformative for businesses particularly across the office and retail sectors, forcing us all to work differently and think about how we want to work in the future. And, as various organisations adopt different workplace strategies, the question on everyone's minds is how to effectively blend home and office working to create a hybrid model.
With 39% of businesses in the UK forecasting a reduction in office space and 66% of business leaders expecting to redesign office space to better suit hybrid working, now is the time to be thinking about how to successfully design and adopt a hybrid model.
McCalmont-Woods Real Estate has, together with fellow FIDES Network members PEN Partnership, CSL Integration and Fit Out Expert, been considering what a move to a hybrid working model means for corporate office occupiers and in particular:
* What are the trends in the UK and USA?
* What opportunities does a hybrid working model present and how do they compare with a more radical shift to a fully remote model?
* What are the key considerations and actions you need to take as you plan new ways of working and seek to improve productivity?
*How do you take a holistic view of future ways of working that aligns business strategy and operational excellence with real estate and technology?
If you'd like to understand more, please click Where and how we work has changed forever to read our views.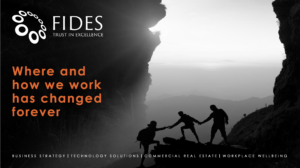 Earlier this year McCalmont-Woods helped a large international corporate to restructure its leases during the height of the pandemic on c.44,000 sq ft HQ offices at Chiswick Park business park in West London leading International SOS Human Resources Director Michael Whitlow to comment, "Nick McCalmont-Woods helped us to undertake a very successful review of our London real estate portfolio – as a result, we were able to negotiate very significant discounts with our landlord. Nick's professionalism and client-centric approach made all of the difference."
McCalmont-Woods Founding Partner Nick McCalmont-Woods said, "It is incredibly important for any business to be able to trust its consultants and in this respect, we have a proven track record of success in projects completed for corporate clients. We believe our specialist skills are vital, not only to corporate occupiers, but also private equity firms and portfolio companies seeking to enhance their performance and achieve optimal results, whilst staying agile and lean. By hiring in expertise on demand, companies can avoid substantial fixed costs precisely at the time when building back scale and value are strategic priorities."
About FIDES Network (www.fidesnetwork.com)
FIDES Network is a trusted independent network providing bespoke services and solutions for financial and professional services organisations, particularly during times of event-driven change. FIDES Network Chairman Mike Symes said, "In a post-pandemic environment, businesses are looking for new solutions to recover, re-size and reimagine. At FIDES, we bring together brilliant people to deliver the most creative solutions."
FIDES members are uniquely able to provide end-to-end services to business space users by combining specialists in the fields of business strategy, operational excellence and transformation, technology solutions, commercial real estate, the project management of office fit-outs, workplace wellbeing and environmental assessments. www.fidesnetwork.com