A mass repatriation of US tech firms unlikely, says SIOR Europe
Fears that recent tax proposals by US President, Joe Biden, could lead to an exodus of US tech firms from Europe have been overplayed, according to the European Chapter of global brokerage body, SIOR (The Society of Industrial & Office Realtors).
These proposals aim to discourage businesses from seeking out more benign tax jurisdictions and have raised the prospect of US tech firms abandoning European capitals.
However, should these reforms come to pass, they are likely to have a minimal impact on Europe's prime office markets, say office specialists at SIOR Europe. "All major global businesses make their occupational decisions on a vast matrix of factors, of which prevailing corporation tax rates is just one. Factors such as access to local markets and to a wide talent pool are far more influential, along with a consideration of total occupation costs, including rent, rates and ancillary charges", says Nick McCalmont-Woods of McCalmont-Woods Real Estate in London.
"The big brand tech giants are truly global businesses. Their customers are spread throughout every corner of the world and they likely need an operational foothold in each of these regional markets", he continues.
"In the aftermath of President's Biden's announcement, Ireland and Dublin inevitably came under the spotlight. However, I believe that the US administration is principally concerned with the repatriation of profits, rather than people. Without any significant reduction in headcount by the big tech players, the impact on the office market here should be minimal. The economic impact, though, would be serious", says James Mulhall, tenant rep specialist with Murphy Mulhall in Dublin.
Charles Tatham of Tatham Property Solutions in Paris says "Corporate tax rates are generally falling throughout Europe and will be down to 25 % in France by 2022. Perhaps more significantly for France, other costs of doing business have also changed in a generally more business-friendly environment. Labour laws, where France still has a reputation of over-protection for workers, is no longer as justified."
The rental data below from SIOR Europe also suggests that, regardless of the proposed imposition of a global rate of corporate taxation, most European cities have a competitive advantage in terms of rents and incentives. This means that any tech businesses relocating to the US from Europe will likely be faced with increased overall occupation costs.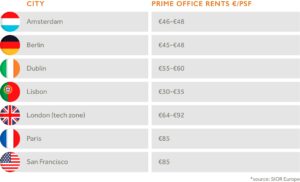 About SIOR
The Society of Industrial and Office Realtors ® (SIOR) is the leading society for industrial and office real estate professionals. Individuals who earn their SIOR designation adhere to the highest levels of accountability and ethical standards. Only the industry's top professionals qualify for the SIOR designation. Today, there are more than 3,400 SIOR members in 686 cities in 42 countries. www.sior.com