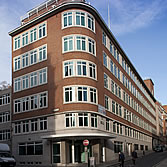 McCalmont-Woods has acquired 3,950 sq ft at Topland's Harmsworth House, 11-15 Bouverie Street, EC4 for Newsquest Media Sales/Digital Media in a deal which slashed their rent bill too.
This was a relocation from Brettenham House, 19 Lancaster Place, WC2 where Newsquest occupied circa 3,570 sq ft.
Chris White-Smith managing director of Newsquest Media Sales said: "This deal shows the importance of using an expert advisor to secure the best deals in this current market. McCalmont-Woods acquired more space for us on the mezzanine floor at Harmsworth House at a rent which was at a substantial reduction on what was being quoted by our previous landlord for us to stay at Brettenham House. I can wholeheartedly recommend McCalmont-Woods as a trusted specialist adviser."
Newsquest is owned by Gannett Co., Inc. a leading international news and information company that publishes 85 daily newspapers in the USA, including USA TODAY, the nation's largest-selling daily newspaper. In the UK Newsquest is one of the largest regional newspaper publishers with more than 200 newspapers, magazines and trade publications, including 17 paid-for dailies. It has a weekly readership of 13m and a weekly circulation of 10m.