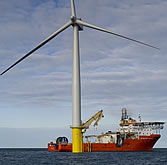 Danish power producer DONG Energy has expanded its London base with two new leases of 5,335 sq ft and 5,585 sq ft at 33 Grosvenor Place, Belgravia, SW1.
McCalmont-Woods acquired the space on lease terms to expire in June 2016 for DONG Energy Power (UK) Ltd which is the renewables side of DONG's business.
At the beginning of August Business Secretary Vince Cable visited DONG Energy's operations base for the £1.2 billion Walney wind farm in Barrow. He was shown how the wind farm is run from the site, the bespoke vessels used for taking crew to and from the off-shore wind farm and the brand new operations and maintenance building.
DONG Energy is growing at an exceptional pace in the UK, from less than ten employees in 2004 to nearly 400. It works across the energy value chain with a focus on the dual solution of gas, which is the lowest carbon emitting fossil fuel and offshore wind. Its total committed investment in the UK is over £4.2 billion to date.
In 2010 McCalmont-Woods acquired 14,483 sq ft also at 33 Grosvenor Place for DONG's oil and gas exploration and production (E&P) subsidiary.