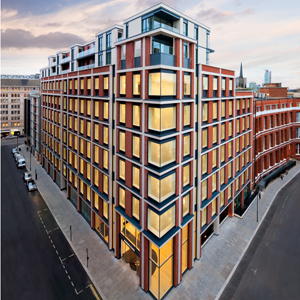 Danish power company DONG Energy takes new lease on 81,000 sq ft London offices as its growth continues.
Niche office agency McCalmont-Woods has advised Danish company DONG Energy on its new UK office headquarters. The company has signed an agreement for lease to take 81,000 sq ft of office space at 5 Howick Place, London W1.
The move will allow it to consolidate its existing London offices across five floors of one building. DONG Energy currently occupies offices in Trafalgar Square and Grosvenor Place.
Brent Cheshire, UK Country Chairman of DONG Energy said:
"We are delighted to have leased this new state-of-the art office. This is a reflection of the rapid growth of our business and our commitment to the UK where we have invested over £5 billion in the last decade.
"The new office space will give us a great opportunity to bring together all 400 of our London-based staff, with all the benefits that improved collaboration can bring. Securing this accommodation also ensures that we remain in Central London, close to our key Government and business stakeholders."
Nick McCalmont-Woods, CEO of McCalmont-Woods said:
"This is an exciting time for DONG Energy as its rapid growth in the UK continues. It is always a challenge for fast growing companies to find quality space in London. We worked closely with DONG Energy and are delighted to have secured this award winning building for them on excellent terms. It gives them the ideal platform to continue to expand their business."
DONG Energy is one of the leading energy groups in Northern Europe. It is the market leader in offshore wind and is the UK's second largest industrial and commercial gas supplier.
DONG Energy has about 6,500 employees worldwide. The Danish-based group generated DKK 73 billion (EUR 9.8 billion) in revenue in 2013. For further information, see www.dongenergy.com
5 Howick Place was awarded Best UK Office Development in the prestigious 2013 UK Property Awards. The landlord, Doughty Hanson & Co. Real Estate and Urban & Civic, was advised by CBRE and Cushman & Wakefield.