Chiswick Park, the business campus located in West London, has announced that the world's leading health and security services business, International SOS, has signed a reversionary lease in Building 4 to 2031. The 43,639 sq ft office is the company's UK headquarters.
The lease renewal is testament to the culture and environment that Chiswick Park offers to its customers and demonstrates that leading businesses remain committed to securing the best office space for their staff to thrive in an environment that focuses on employee wellbeing and helps deliver corporate ESG agendas, despite the challenges posed by Covid-19.
Arnaud Vaissié, Co-founder, CEO & Chairman of International SOS, commented, 'Our London office is critically important to us as our joint HQ and home to one of our 26 Assistance Centres. Since moving to the Chiswick Park site in 2012, we have been continually impressed with Enjoy-Work's dedication to safety and sustainability. We are proud to make this long-term commitment to our people, our clients and to London."
"We are delighted to continue to build on our long-term relationship with International SOS. This deal reinforces the appeal of a work environment that offers more than just an office, with plenty of outdoor space and onsite amenities available for workers. We are pleased that International SOS remains on our Campus to grow and develop further as a company ", said Matt Coulson, CEO Chiswick Park Enjoy-Work.
Chiswick Park covers 1.8 million sq ft of office space spread over 12 buildings. The Campus is home to some of the world's leading companies including Pernod Ricard, IMG, Starbucks, Discovery and Danone.
The Park also houses over 45,000 sq ft of retail including a gym, restaurants, convenience stores and pop-up stores.
Onsite property management team, Enjoy-Work, is responsible for overseeing and performing the daily operations of the Campus as well as running a virtual programme of regular activities aiming to enhance the wellbeing and safety of its Guests.
Knight Frank acted for Chiswick Park and McCalmont-Woods Real Estate acted for International SOS.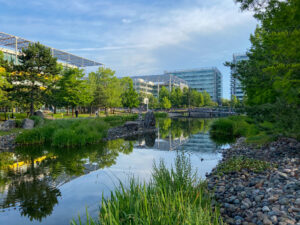 About the International SOS Group of Companies
The International SOS Group of Companies is in the business of saving lives, protecting your global workforce from health and security threats. Wherever you are, we deliver customised health, security risk management and wellbeing solutions to fuel your growth and productivity. In the event of extreme weather, an epidemic or a security incident, we provide an immediate response providing peace of mind. Our innovative technology and medical and security expertise focus on prevention, offering real-time, actionable insights and on-the-ground quality delivery. We help protect your people, your organisation's reputation, as well as support your compliance reporting needs. By partnering with us, organisations can fulfil their Duty of Care responsibilities, while empowering business resilience, continuity and sustainability.
Founded in 1985, the International SOS Group is trusted by 12,000 organisations, including the majority of the Fortune Global 500, as well as mid-size enterprises, governments, educational institutions and NGOs. 10,000 multicultural medical, security and logistics experts stand with you to provide support & assistance from over 1,000 locations in 85 countries, 24/7, 365 days.
To protect your workforce, we are at your fingertips: www.internationalsos.com
About Chiswick Park Enjoy-Work
Chiswick Park is a 1.8 million sq ft business campus located in West London, W4. Developed in 1999 and designed by Rogers Stirk Harbour + Partners, it is today made up of 12 buildings, bringing together over 10,000 people from 75 of some of the world's leading companies such as Discovery, Paramount Pictures, IMG, Starbucks and Pernod Ricard. Chiswick Park is set in 33 acres of landscape garden featuring a lake and waterfall. It also houses over 45,000 sq ft of retail space including an on-site Virgin Active gym, restaurants, convenience stores and a variety of pop-up traders and street-food vendors.
Chiswick Park is entirely managed by property management company, Enjoy-Work, which provides a range of services, facilities and entertainment for its guests on the park. The Enjoy-Work philosophy aims at providing an environment where people take pleasure at working and are therefore more productive in their work. In addition to building management, landscaping and maintenance, Enjoy-Work proposes a programme of regular activities and concierge services dedicated to the guests. https://enjoy-work.com/