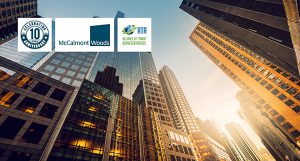 On 28th January 2008 the markets were bracing themselves for more volatility, the Chancellor of the Exchequer had just handed more power over banks to the FSA and Lembit Opik was making headlines dating a Cheeky Girl.
Also, McCalmont-Woods opened its doors, and never looked back.
We are delighted to announce 10-years of independent Tenant Representation real estate business. It's been a hugely fulfilling journey and a milestone of which we are immensely proud.
£300 million rental commitments and counting
McCalmont-Woods Real Estate's positive 'can-do' attitude and our exclusive focus on serving the interests of corporate office occupiers has resulted in McCalmont-Woods advising on in excess of £300 million rental commitments to date across London's prime real estate districts, from office acquisitions and disposals to rent review and lease advisory services.
A big, big thank you
Since our clients are at the heart of everything we do, we should like to take this opportunity to thank you all for your incredible support and friendship over the last ten years.
McCalmont-Woods will always champion your property requirements as trusted advisors, and guide and advise you at every step to deliver the best possible outcomes for your business.
What's more, our services are extending overseas – more on which will be announced soon!
To all our clients and industry friends, our very best wishes for the next 10 years and a very prosperous 2018 to you all.