Independence defines McCalmont-Woods Real Estate.
We are Tenant Representation real estate specialists, established to further the interests of corporate occupiers. From acquisition to disposal, to rent review and lease advisory services, we champion your property requirements as trusted advisors.
Our real estate market knowledge, extensive industry contacts and trusted advice ensure that wherever your business is located, we are able to guide and advise you at every step to deliver the best possibles outcomes for your business.
Clients appreciate us for our:
expert UK-wide local market knowledge combined with global experience;
ability to provide unique solutions that reflect our clients's objectives and ambitions;
knowledge of best practice gained from a wide range of complex assignments;
exceptional personal service and track record of successful project completions and,
guaranteed un-conflicted advice delivered by highly experienced principals.
MWRE is regulated by the Royal Institution of Chartered Surveyors and subject to RICS quality assurance. RICS regulates and promotes the profession, maintains the highest educational and professional standards and protects clients and consumers via a strict code of ethics.
To see what our clients say about us, click here.
Nick McCalmont-Woods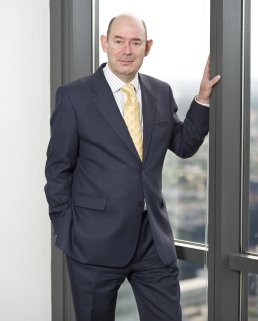 Founding Partner Nick McCalmont-Woods has over 30 years experience representing corporate clients (see Timeline) and is a member of RICS since 1985.
On joining Jones Lang Wootton in London in 1984 Nick specialised initially in Landlord & Tenant and various property related tax matters before moving to JLW's City Offices Agency team in 1987.  He was made Associate in 1993 and Partner in 1995, remaining with the firm for 16 years.
In 2000 Nick joined GVA Grimley to help develop and grow GVA's City office. He was made an Equity Partner in 2001 and in early 2008 founded MWRE to focus exclusively on representing corporate occupiers.
As the UK member of Alliance of Tenant Representatives, an organisation comprised of top corporate real estate firms across North America, Nick shares knowledge, skills and resources with other ATR members who similarly represent only business space users, via a strong established network of transatlantic offices.
Nick is a member of FIDES (providing managed services support for private equity and its key stakeholders) and is a co-founder and member of TRADS (Tenant Representation Advisors Society), which launched in London in 2016, to promote excellence in tenant representation.