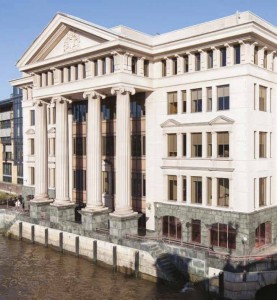 McCalmont-Woods has acquired a new European headquarters for Tata Communications (UK) Limited in Vintners' Place, EC4 in the City.
The new offices comprise of 16,638 sq ft on Level 2 (North Wing) in Vintners' Place, 68 Upper Thames Street, EC4 on a new sub-underlease from Getco Europe Limited.
The Tata Communications Global Network reaches more than 240 countries and territories, 99.7% of the world's GDP, millions of businesses, and billions of people.
Tata Communications has been a long standing client of McCalmont-Woods. The niche London real estate agency acquired its previous 18,600 sq ft offices at 20 Old Bailey, EC4 in 2010.
The catalyst for the latest move was Blackstone's purchase of 20 Old Bailey from Mitsui Fudosan, in December 2013, with its plans to extend and reposition the building. All the existing leases expired between December 2014 and March 2015.
McCalmont-Woods CEO Nick McCalmont Woods said: "An interesting facet of this deal was the new space on the north bank of Southwark Bridge, had only been occupied for a very short time by Getco. Tata Communications was able to acquire the offices with the benefit of a virtually brand new existing fit-out including structured cabling; comms rooms; kitchens; boardroom, private offices; reception and meeting rooms and furniture. This meant McCalmont-Woods was able to deliver huge capital expenditure savings in addition to the very competitive rental and rent-free terms negotiated."
Getco which was an American proprietary algorithmic trading and electronic market making firm was advised by Cushman & Wakefield.
Julie Woods-Moss Chief Marketing Officer & CEO Nextgen Business Tata Communications said: "Nick did a fantastic job of finding Tata a great property in central London. We had tight budgets and tight timelines and Nick over delivered in spite of our constraints. He was professional and responsive at all times and a real pleasure to work with."